How does the concept of speed dating translate to professional learning?
As a principal, I am always seeking new ways to engage my staff in professional conversations and learning. After brainstorming, a light bulb went off after a conversation I had with a friend about her experiences with speed dating. During our most recent professional learning time together, I paired teachers in two parallel rows and posed questions related to our school goals and SIP plan (and that were worded according to our school rock star theme).  After each question, teachers rotated and a new reflection question was posed. This activity that included 8 questions, was scheduled for 30 minutes and could be shortened or lengthened to accommodate the number of questions or time constraints.
This approach was successful for many reasons.
1. Cross-Curricular collaboration occurred across content areas and grade levels offering staff members exposure to varied perspectives and points of view.
2. Unique ideas were shared amongst staff members that may not get the opportunity to collaborate in common PLCs on a regular basis.
3. Support staff, student teachers, new teachers and veteran teachers were able to participate at equal levels.
4. Meaningful ideas and activities were shared to motivate and empower staff
5. Active learning that required participation from all staff members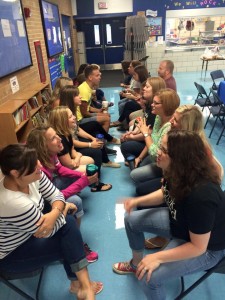 Questions Posed included:
1. As an educator, what rock star are you most like and why?
2. What is your best rock star teacher quality?
3. How will you get your temp back and get into the school groove this year?
4. How will you get your students to have more 'voice' and take center stage in your classroom?
5. Parent Communication is key. In what ways will you provide a 'back stage' pass into your classroom and learning activities this year?
6. You're all members of VIP PLCs. How will you ensure your time together is an effective jam session?
7. Every rock star needs an entourage. What strategies will you use to foster a classroom learning community?
8. Time for special effects. What is a technology application or idea you are excited to use this year?