Digital Collaborative Tools for Staff Meetings
Digital Collaborative Tools for Staff Meetings
Mentimeter:  Mentimeter is a collaborative platform that provides interactive options for presentations and group meetings. The key feature of Mentimeter is the variety of options for the collaborative displays and questions. The creator can generate a question and display choice to embed in any variety of presentation programs. Attendees or participants do not need an account to engage in the collaboration. Using a smartphone or device, participants go to www.menti.com and enter a short numerical code to participate.
We recently used the word cloud feature during a staff meeting. Staff were asked to share one word they wanted to associate with their teaching legacy. As staff added words, common choices enlarged.
You can use Mentimeter to:
Gain feedback from staff and students
Collect formative or summative data from assessments
Ask staff or students to reflect about a particular event and then analyze the results for continuous improvement and school goal planning
Padlet: Padlet is a virtual bulletin board that allows collaborative feedback and sharing. A question or problem can be posed and staff and students can add their feedback or reflections. Individual students or staff can also use it as a bulletin board to post or pin resources, ideas, or concepts. You can use this tool in real time during a face to face session or invite staff or students to collaborate via a link to add their ideas, thoughts, or photos.
You can use Padlet with staff to:
Encourage staff to share specific elements of their classroom learning environment
Have staff share their favorite learning links, apps and resources
Gain feedback about an event, professional learning day, or activity
Share staff book recommendations for professional reading or classroom read-louds
Post pictures of student work samples to compare during PLCs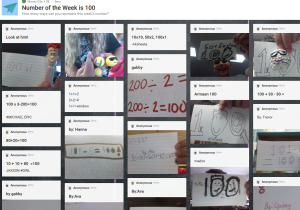 Poll Everywhere: Poll Everywhere is as simple as it sounds. It is simply a virtual way to get a poll of a question or idea. A presenter can pose a question and respondents answer based on the criteria that is presented. I used Poll Everywhere after a back to school staff meeting to gauge where the excitement and energy was. It gives quick information that can be used to drive meetings, professional learning, and leadership action items.
Other ideas for Poll Everywhere could include:
Asking feedback for professional learning topics
Determining the number of staff members that can identify and communicate key school goals
How staff use media to communicate with parents or colleagues
How involved staff feel as a member of an IEP or intervention team
To get a pulse on school culture items
Crowd Purr: Crowd Purr is an "audience engagement platform" that allows users to create mobile-driven experiences. Examples of their options include:
Multiple-Choice Poll
Text-Answer Poll
Like/Dislike Poll
Yes/No Poll
Live Trivia
Social Media Wall
There are many tools available to administrators to engage staff during meetings, gain feedback, and assess school needs. These are just a few. Jump in and try a few!