Book Tasting Staff Meeting
I read a blog post from 4 O'Clock Faculty earlier this semester and it was just the inspiration I needed to share my professional library with my staff and continue to support the development of our culture of readers. You can read their original blog post HERE
With the inspiration, I was ready to implement and make the idea work for my staff and building. The goals were simple:
Provide staff exposure to a variety of engaging education related professional books in multiple content areas and genres.
Allow teachers to individualize their professional development journey by providing them the opportunity to self-select a book from the provided options to have purchased and provided for them.
Creating an atmosphere where educators are discussing and sharing their favorite book titles and offering further recommendations for reading
Supporting a community of teachers that demonstrate that everyone is a learner and everyone is a teacher.
The setup set the stage to engage teachers in an informal, yet structured learning experience designed to also model for them how they may implement a book tasting within their classroom.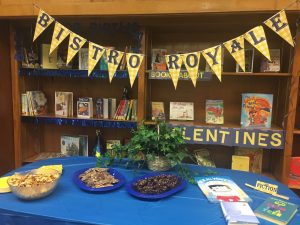 The set up included:
A table for each genre or content area that were displayed
A hostess stand where staff placed their final orders
Snacks and goodies like any good bistro
Signage for each table, snack table, and door
The menu included books from 5 different content areas/genres
Technology
Math
Literacy
Engagement and Innovation
Fiction
I created a powerpoint file that showcased each title in a menu format
This template and all the other templates used for the Book Tasting can be accessed by clicking the link below:
The staff were invited to record their favorite titles on a small book mark that I created for them to take notes. A 'reflection' napkin was provided for teachers to take notes regarding any conversations or ideas they had as they sampled the books. A final order form for teachers to record their selections was also included. These were all made available as they entered the room.

After a brief introduction and welcome, staff were asked to visit each table and sample the books that were displayed on table according to content area and labeled as such.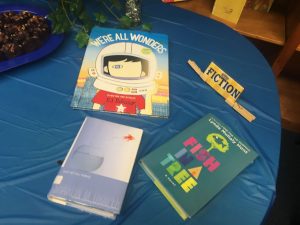 As teachers reflected and shared their thoughts of the books with their colleagues by flipping through the book, reading the back covers, or hearing feedback from peers that had already read the book, teachers were asked to place an "order" for their individualized professional development selection by circling their choice and returning it to the 'hostess stand.' I will be placing an order for each teacher to receive their selection to add to their professional library. I also made it known that any of the books that were shared were already a part of our school library or my professional library and they had access to them should they want to borrow any other books other than the book they selected to have purchased for them.
I have to thank our school secretary for the delicious treats and chex mix she made to be shared at the Bistro! They were tasty and a true hit! Staff meetings are always better with food!
Some other notes about details:
Our school colors are blue and yellow. I tend to reinforce this in EVERYTHING we do, so the decor, template, and resources are all blue and gold intentionally. Our mascot is the "Royal" so that drove the decision to name the book tasting "Bistro Royal."
For easy centerpieces that you can use repeatedly, I purchased yellow vases at Dollar Tree and filled them with blue flowers to coordinate our school colors.
Some reflections and thoughts for moving forward:
It will be beneficial to follow-up with staff following the purchase of their books and time to read their selections with a round up and book talk in which each staff member shares their reflections and take-aways from their books.
A follow-up meeting could also include a book exchange in which teachers trade or share their books with other teachers
Staff can share with their colleagues how they chose to implement book tastings in their classroom with their staff
Take the book tasting idea and apply it to other professional development areas:

Taste a variety of coding resources, robots and games
Taste a variety of technology applications
Taste a variety of classroom management strategies
Taste a variety of parent engagement ideas
Taste a variety of math manipulatives or strategies
Taste a variety of TLAP ideas or hooks
Taste a variety of ways to build rapport and relationships with kids