Egg a Co-Worker Staff Morale Builder
Maintaining a positive learning and teaching environment for teachers and staff is important to ensure a positive learning environment for students. Finding simple ways to encourage positive praise between co-workers is an important part of building this learning environment. This week, we created a simple station in the office for teachers and staff to access to spread some cheer and recognize their co-workers in meaningful and positive ways.
This required minimal setup:
Directions in a plastic frame
Note cards and pens for staff to write messages
Empty plastic eggs. We chose school colors!
Small candy or prizes (erasers, stickers, ect)
We also chose to include a sweet treat for all staff as well. The message on the peeps say, "Thanks for teaching our little Peeps! Have a great spring break!"
All of these were set at a station in the office with some seasonal decor.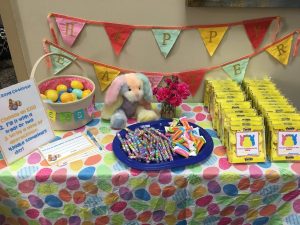 Just a simple and fun way to spread some spring  cheer!