15 Strategies to Lead with Literacy from the #LeadLAP Chat 7.7.2018
There were so many wonderful ideas and tweets shared today about creating a culture of readers. I curated 15 of them to share with you. These easy to implement ideas can be done at any level, in any setting, and in any position. You can learn more about some of these strategies and more in the book, Lead with Literacy.
1. Display what you are reading, have read, or what is next on your reading list outside your classroom or office space. 
2. Be intentional about reading to students. It's a great way to break the ice, but also build relationships and rapport. Books can unify classrooms and the school with a common message and set of values. They teach vital skills and lessons. 
3. Allow students to make and share book recommendations with each other. Have them post them around the school, share them virtually, or do book talks!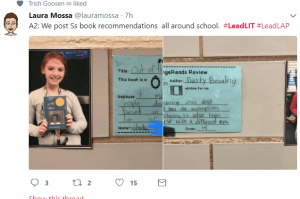 4. Be creative in how you display books. It could be a bathtub, lemonade stand or even a photo booth like this one! 
5. Give the literal gift of reading by gifting books whenever possible! Become "the book guy" in your school system where parents and community members know they can drop off books to be donated.
6. Post copies of the books you are reading or have read in your classroom or school space. 
7. Host a Book Bingo event for a literacy night or classroom activity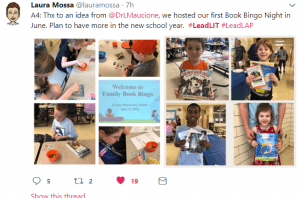 8. Resolve to give books to colleagues!
9. Host a book tasting for your students or teachers. You can learn more about hosting  a staff book tasting at one of my previous blog posts here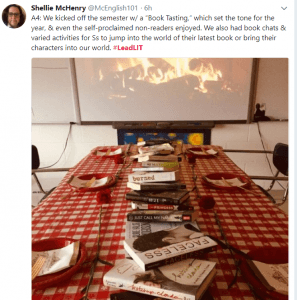 10. Host a book swap where students and or staff exchange their books for new/used ones! 
11. Encourage professional reading by sharing your professional library collection with others.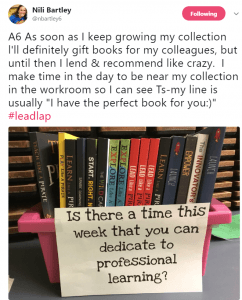 12. Flood your work space with books! 
13. Host events in the summer months to connect with kids and build the love of reading.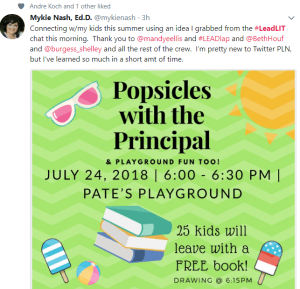 14. Eat with kids over lunch and talk about books. 
15. Create comfortable reading spaces and always talk about books with kids, colleagues and parents every chance you get!