Flipping Learning from the Principal's Office
Flipped learning isn't just a concept to share with staff and encourage teachers to use to engage their students. School leaders and principals can use the concept to connect with students and create a culture of learning and literacy throughout the school. Three simple strategies that administrators can do to "Flip Learning" from their role include:
Social Media Read Alouds
Social Media Challenges
FlipGrid Book Talks
Social Media Read Alouds:
Looking for a way to engage your kindergarten students before school or to reach out to students on a snow day? Social media read alouds can be the perfect avenue. When students aren't in our buildings, we have to find creative ways to connect with them and continue to build a culture of readers. Social media can be an engaging and accessible avenue to share stories. Consider doing a Facebook LIVE video of a read aloud. Promote the event ahead of time by setting a designated time for parents and students to tune in. You can do this from your living room, office, or other location or even while on vacation. The simplicity of a read aloud makes it easy to implement, and social media stories can be done for any topic, theme, or special event.
Challenge them and Create a Community of Learners: This past week, we had a snow day, while scrolling through facebook, I realized that this was the perfect opportunity to engage with my students and encourage learning on their bonus day off. I quickly used Canva to put together a graphic to post to our social media page. Students and their parents were encouraged to send in photos of their students completing any or all of the four proposed challenges. Those that participated were offered a small prize upon returning to school. On our first attempt of the snow day challenge, nearly 40% of students participated! We look forward to seeing this increase in the future with further promotion and strategic communication.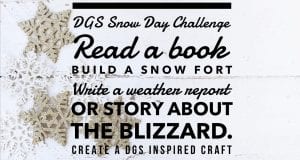 Flip it with Flip Grid: FlipGrid provides a unique and engaging platform to promote learning in many ways. FlipGrid allows users to record short videos and populates them on a collaborative form to view and share. To promote reading, set up a grid for staff to record their favorite read alouds and share them on social media throughout the summer or over breaks. Enhance this by engaging students in the process and allowing them to record themselves reading their favorite books and share them as well. You can spotlight district office staff or seek submissions from parents or community members.
FlipGrid can also effectively amplify student voice and engage learners through short video creation. You can use FlipGrid to have students engage in many literacy-based activities:
Have students join a grid to share their favorite book titles through short book talks.
Encourage staff to do a read aloud for students and share them on school social media
Provide students the option of using FlipGrid to share their personal writing pieces.
Have staff share tidbits about how they engage their students in reading by recording a FlipGrid.
Reach out to other schools or classrooms and have students share their reflections about a common title with others as reading buddies.
Ask older students to record picture books for younger students.