#OneWord2019: Intentionality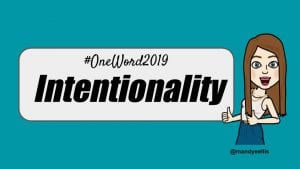 Each year I choose a word to provide focus and clarity to my year. I refer to the word often and allow it to guide my work as a mom, wife, and educator. Many years, it requires ongoing thought and brainstorming. There have been years where it has taken me days or weeks to find the right word to sum up my goals and aspirations for the year.
This year was different. For a variety of reasons, the word, "intentionality" screamed at me this year loud and clear and the moment I started brainstorming my word, this was and continues to be the only word that resonates with where my head and heart are at currently.
As a mom, wife, educator and leader, I find myself regularly trying to find balance in my life. I am constantly trying to find opportunities to be more effective and efficient. I schedule each part of my day and week with the best interests of my students, staff and family in mind, but I internally find myself reflecting on the purpose or intent of the actions.
The dictionary defines intentionality as follows: