As part of a school improvement day to kick off the New Year, I presented the session: "P
ower Up and Personalize Your Own PD
". I enjoyed the opportunity to share with K-12 district staff about the power of connected learning with like-minded educators. We discussed the power of using twitter to build relationships, expand professional learning, and seek resources. We also validated the importance of professional organizations, meaningful professional conversations during efficiently used PLC opportunities, and informal conversations with colleagues. Great conversations were spurred as teachers shared out their favorite resources, book titles, and ideas.
After attending IETC16 and a session on professional development by Kim Darche, I felt compelled to ensure elements of my professional learning session modeled best practices for engaging adults. This included snacks at the front of the entrance that were purchased as a result of a pre-workshop survey about teacher preferences. Favorite songs were amplified for staff as they entered that were also collected prior to the session. Small, but deliberate and intentional acts such as these, build relationships, but also model for teachers ways in which they can engage learners with personalized teaching in the classroom. Because I am an avid reader and strongly believe that educators should model reading for their students (and thus principals should model for the their staff) I also brought a pile of my favorite education related books for staff to peruse as they came in. Teachers also received a quote and small drum on their table/desk space to remind them of an important message that I read from Dave Burgess to encourage staff to "find their drum and beat it!"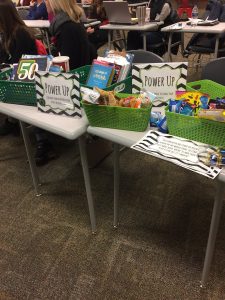 The first, but quick activity, we completed was "Heads or Tails." Using the website "Flip a Coin" staff were directed to place their hands on either their heads or their 'tails.' This continued until only one person was standing. For an element of fun and humor, they were awarded a green "you rock" trophy. This only takes 2-3 minutes.
One of my favorite strategies to start the conversation going was one I learned from Kim Darche. In the snowball activity, questions are compiled one within another to form a snowball. They are passed around the room. Each participant takes the first layer off and answers it before passing it to another person. The questions can be differentiated for the audience, but it also has great application in the classroom with kids as well!
The bulk of the presentation focused on the importance of being a connected educator and finding your own tribe to connect with. Some of the highlights of resources shared included the following:
Blogs:
Twitter Accounts:
Matt Miller @jmattmiller
Dave Burgess @burgessdave
George Couros @gcouros
Eric Scheninger @e_sheninger
Tomas Murray @thomascmurray
Jimmy Cases @casas_Jimmy
Books:
Teach Like a Pirate, Dave Burgess
Ditch that Textbook, Matt Miller
The Innovator's Mindset, George Couros
The Book Whisperer, Donalyn Miller
What Connected Educators Do Differently, Todd Whittaker
Whole Brain Teaching, Chris Biffle
Kids Deserve It, Adam Welcome
Your School Rocks, Ryan McClane
50 Things to Do with Google Classroom, Alice Keeler
You can view the presentation and all the resources that were embedded
HERE