Kindness Challenge Week Celebration at DGS
Dunlap Grade School celebrated The Great Kindness Challenge during the week of January 25th-29th. The goal of the week was simple: Spread Kindness. The week was part of a national movement to develop empathy and foster kindness in schools and the community. You can read more at http://www.greatkindnesschallenge.org/index.html.

The week was filled with many special activities; including:
A Kindness Proclamation by Major of Peoria, Jim Ardis
A special respect assembly by community advocate and speaker, Carl Canon
An all school Kindness Rocks photograph
Daily Kindness Precepts at morning announcements
Service and Leadership Club Student Greeters at morning drop-off
Parent Guest Readers at lunch time that read books focused on lessons in empathy and kindness
Kindness Matters Pencils and Bracelets
Chain Link Fence Decorating
Collaborative art project by all students that is now displayed in the hallway
Kindness Technology projects
5th Grade production of a Kindness Video
All school kind act paper chain
Daily themed dress up days
Food Truck for teachers and staff
Kindness Kits delivered to district staff members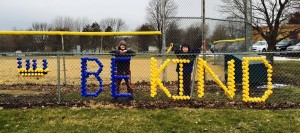 You can watch videos highlighting the week at DGS at:
We look forward to taking the momentum from Kindness Week to continue to develop kindness and empathy amongst our staff and students at DGS!