Tapping into popular culture is a great strategy to engage staff and students in learning activities and professional development. Our most recent staff meeting utilized a "Chopped" theme as teacher were asked to create lessons.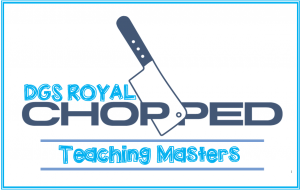 The premise and goal was for teachers to work in collaborative and mixed grade level and content area teams to create an innovative and engaging learning experience using a 'basket' of ingredients.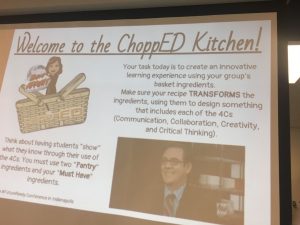 This meeting was facilitated by our technology coach, Mrs. Stefanie Pitzer, and she led the staff through the process that provided team building and lesson planning in one.
We set the stage to engage with mixing bowls filled with cooking tools, a cutting board and oven mitt. Staff were provided a chef's hat and apron to wear. These were given to them to keep and use in their classroom as a 'hook' for a future lesson.
Teams were all given the same anchor standard to 'integrate knowledge and ideas'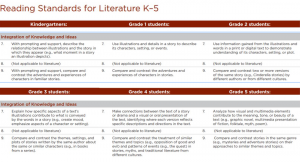 Their instructions were to read their grade level standard and 'cook up' a lesson that coordinated the 4Cs (Creativity, Collaboration, Communication and Critical Thinking) while using at least two tools from the 'pantry.' Those tools consisted of library books, a camera, our learning management system, a wild card, google classroom, flipgrid, padlet or seesaw. Teachers were also given a mystery tool that they were required to add into their lesson plan in some way. Examples of these included:
paperclips
stickers
round dots
construction paper
While planning their lesson, teachers were thrown a 'road bump' challenge that they needed to accommodate for. These consisted of:
Devices not working
Students needing additional practice with digital citizenship concepts
Data from exit tickets that required reteaching
Students having difficulty with appropriate digital collaboration
If teams had a specials content area teacher in on their team, they were also required to add that content area into their lesson. For example, one team had our school counselor, so a social/emotional component needed to be present in the lesson.
Teachers recorded their lesson plans on a Google Slides presentation that they will have access to in the future to refer to. You can access that HERE 
At the conclusion of the session, teams of teachers shared their lesson plans and reflected on the experience. They made connections as to how they could incorporate the concept of a ChoppED lesson in their classrooms. Examples shared for this included:
Creating writing pieces with setting, characters, and plots from a pantry of choices using specific writing skills.
Creating word problems with specific operations or operations
Creating a "Decimal Diner" for students to engage in various math activities related to fractions and decimals.