Positive Contact Challenge
I find an enormous amounts of inspiration from my colleagues in my Professional Learning Network on Facebook and twitter. With educators that share a passion for teaching and learning, there's always a take-a-way that I can use immediately in my building. As I scrolled through Facebook one evening, I stumbled upon the "Share the Love" positive phone call challenge and wanted to put it into action. With dreary winter weather and 3 quarters of school behind us, its the perfect time to promote the positive and share the great things going on with our students.
I copied the template below and placed it in staff mailboxes with a message of encouragement to celebrate the successes of their students. Those that completed the challenge would receive recognition and a mystery incentive (Barnes and Noble Gift Card).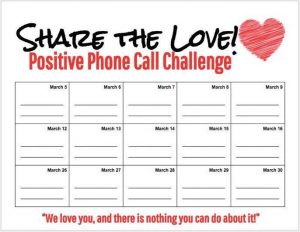 Around the same time as I came across the positive phone call challenge, I was inspired by a presentation at the Illinois Computing Educators (ICE) Conference by Melissa Kartismas and Lindsy Stumpenhorst. They shared how they sent positive postcards home to every student in their school. With a little graphic design on www.canva.com, I created the postcards below and printed them on card stock.
We ran labels for every student in our school and placed pre-labeled postcards at a station in our teacher workroom/lounge. Over the course of the month, any staff member could choose a student to write a note too. Aides, support staff, specials teachers, and classroom teachers were all part of the process and shared sweet moments of pride and success with the students. We collected the post cards in the office and did a bulk mailing of all the special notes to our students.
The feedback from staff was positive. The goal was to promote the positive of our students, but the impact on teachers was positive as well. When you provide opportunities to promote the positive, it spreads kindness and promotes a culture that supports building relationships and rapport with students