District Strategic Goal #2 is:
To Obtain a Satisfying and Productive Classroom and School Teaching Environment
District Strategic Goal #3 is:
To Obtain a Satisfying and Productive Classroom and School Learning Environment
Summer is traditionally a break for staff and students, but there has been a lot of activity at DGS this summer. The Custodial staff at Dunlap Grade has been busy this summer to ensure that the building is ready for learning and teaching come August. Mr. Eads, Mrs. Riekena, and new custodian, Mr. Horrie, have been working diligently. Work that has already been completed includes deep cleaning of all classrooms and common spaces, painting of the office area, principal's office, teacher work room, three classrooms, staff bathroom, and gym office, landscaping and mulching of the entire campus, removal of wooden fencing, planting of entry flower pots, organization of common storage areas, delivery of classroom materials for transferring teachers, organization and delivery of K-2 new math curriculum materials, painting of the bike rack, individual teacher requests, and attention to many details throughout the building.
Additional building improvements that will be completed before the start of the school year will be installation of the Parent's Club purchased picnic tables in the front of the building, new signage on the front of the building, installation of a media display center, power washing of the exterior building, and continued detail cleaning and maintenance details.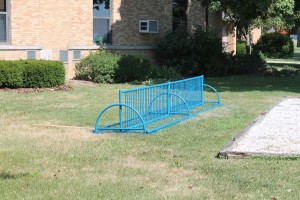 Our maintenance and custodial staff are an essential part of our team in ensuring that we meet our strategic goals. We are grateful for their time, energy, and motivation to creating an atmosphere and environment conducive to learning and teaching! Thank you, Mr. Eads, Mrs. Riekena, and Mr. Horrie!